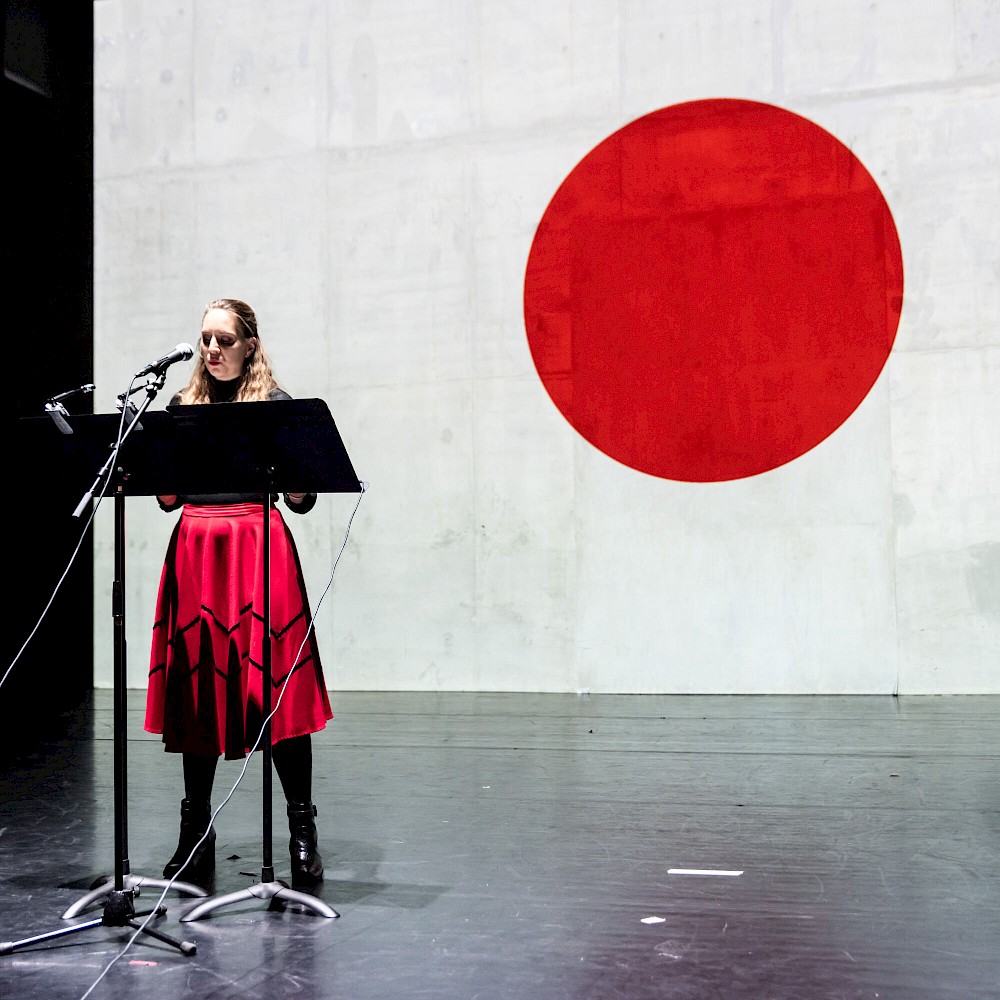 Photo credit: Alex Schröder & Royal Conservatoire, taken at the Spring Festival '22
Joint Research Day - 12 hours of research!
Fr

27 Oct 2023

09:30

–

21:30
- KABK & Amare (KC), The Hague
You are warmly invited to meet fellow (artistic) researchers to exchange ideas, experiences & inspiration on the first Research Day of |> /~\ |≥ (, 27th of October 2023.
What's happening in The Hague & Leiden in terms of art & research and how can we inspire each other and make new connections across our institutions?
To answer this question, we have prepared a 12-hour smorgasbord of research presentations, performances, performative lectures, a big lunch, art works and films of around 40 research group members, tutors, PhD candidates, (arts) researchers and (master) students of the KC, KABK and ACPA.
Check the one-pager with the programme here, or the outline below.
Programme - 1st part @KABK
Auditorium
10:15 - 17:10 The University of the Arts (KABK/KC) has a new lectorate: Lectorate FILM, led by lector and professor Dr. Erik Viskil and coordinated by Georgie Brinkman. They have curated a film programme celebrating research through film for the occasion of the Research Day. Detailed information about the artists and film screening will follow soon.
10:15 - 10:40 Introduction lectorate FILM & today's film research programme
10:45 - 11:15 Screening Firstborn - Eersgeborene by Etienne Kallos, 2009, 27 minutes, Venice Golden Lion winner
11:20 - 11:50 Research presentation PhDArts candidate and filmmaker Etienne Kallos
11:55 - 12:25 Presentation and screening NLN 2023 graduate Shouyi He
12:35 - 13:45 LUNCH BREAK // SPEED DATES (around galleries KABK)
14:00 - 14:30 Presentation and screening MAPS 2023 graduate Arianna Cavalensi
14:35 - 15:05 Research presentation PhDArts candidate and visual artist Jort van der Laan
15:10 - 15:30 Discussion: What constitutes research in and through film in different practices
15:30 - 17:00 Screening The Image Book - Le Livre d'image, Jean-Luc Godard, 2018, 97 minutes
17:00 - 17:10 Conclusion
Library
09:30 - 17:00 Together with the KABK library, a few members of the Theory Platform of the KABK (a group of theory tutors lead by lector and professor Dr. Anke Haarmann) organise a Thesis Showcase from all KABK BA/MA programmes.
(tbc) Two alumni will present their thesis and talk you through their experiences on the exciting (writing) process.
Schedule and other information to come, before 27th of September.
Gallery 2
09:30 - 17:00 Ongoing Installation The Living Archive; Dissemination in Research with a number of research publications of BA / MA / PhD and staff research.
09:30 - 17:00 Live streamings from the Auditorium & Library
Gallery 3 + opposite Garden
14:30 - 17:15 Nine members of the Politics of Knowledge Research Group, lead by lector and professor Dr. Anke Haarmann have curated an almost 3 hour programme to take place in Gallery 3 and the opposite garden. In this programme the researchers will present and perform the outcomes of their research journey! The final programme of this block will be published around the 25th of September.

Anastasia Loginova, tbc
Duo Elisabeth Rafstedt & Johanna Ehde (Rietlanden Womensoffice), tbc
Eric Kluitenberg, tbc
Duo Ingrid Grünwald & Maarten Cornel (Big Dialogue), tbc
Sophie Allerding, tbc
Wieneke Bremer, tbc
Winnie Koekelbergh, tbc
Zuzanna Zgierska, tbc

17:15 We gather at Gallery 3 to start the collective Guided Listening Walk at 17:30 (SHARP!) to the evening programme at AMARE (KC, studio 2). This walk is organised by tutor and researcher Justin Bennett (Institute of Sonology at KC). There will be delicious soup & bread served upon arrival.
Drawing: untitled 2016 (detail), by Justin Bennett, who will organize the Guided Listening Walk