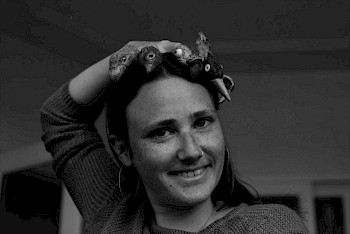 Photograph by Lewis Brandner.
Georgie Brinkman
More-than-human storytelling in a time of extinction.
Contact
Z2VvcmdpZWJyaW5rbWFuQGdtYWlsLmNvbQ==
Artist Bio
Hi, I'm Georgie. I am an artist and researcher whose work treads a precarious ground between science-fiction and science-fact (and the muddy sludge in between). It dips a toe in the realms of moving image, installations, audio works, writing, performance or whatever else feels right at the time. In an age of mass extinction my works celebrate other-than-human existence by casting animals, plants and minerals as leading protagonists. By entering my constructed worlds you may encounter a melancholic seagull, a leech who is a poet, or an ocean with a broken heart. I often collaborate as part of an artist duo with my partner, Alex Wight. Alongside my practice I founded The New Flesh, an artist residency program in London for early career artists working at the intersection of costume and moving image.
I graduated from the MA Artistic Research department at KABK in 2021, where I was supported by a scholarship from the Leverhulme Trust. Recent and upcoming presentations include Museumnacht, Stroom Den Haag (NL) ; LUNA Young Masters 2022, Media Art Friesland (Leeuwarden, NL); Nachtvlucht, Stedelijk Museum Breda (NL); Art au Centre, (Liège, BE) and Art & the Rural Imagination, More Than Ponies (UK).
Currently, I work as the Coordinator of MA Artistic Resarch and the Research Coordinator of Lectorate FILM at KABK. For the academic year 2023-24 I am a participant of the Deep Futures Research Group.