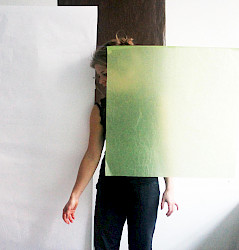 Renske Maria van Dam
Dr. Ir. Renske Maria van Dam is an architect, artist and academic whose work exploits tiny perceptions and un/balancing procedurals to open-up alternative worlds of experience and action. In her atelier, creative practice research coincedes with the carefull construction of architectural life.
Contact
ci52YW5kYW1Aa2Fiay5ubA==
Biography
Dr. Ir. Renske Maria van Dam developed her practice as artist and/or researcher in residence at diverse organization, among which Architectural Body Research Foundation (ABRF) in New York (US); Architectural Body Research Group at Kansai University in Osaka (JP); SenseLab: Laboratory for thought in motion / La Trobe University Art Gallery in Bendigo (AUS); and Slow Research Lab in Amsterdam (NL). Her work draws on her amateur background as theatrical performer, zookeeper, and yogi as much as it does on her professional engagement with architecture studio Herman Hertzberger in Amsterdam (2008-2009, NL) and Atelier Li Xiaodong in Beijing (2011, CN).
She holds a PhD in Architecture (2021), Working With/In the Gap, for creative practice research conducted through the Radical Materiality Research Group at KU Leuven in Brussels and Ghent (BE). She graduated (MSc 2013, BSc 2010) from the TU Delft Faculty of Architecture (NL), with additional studies in Asian conceptions of space-time (TU Delft Honors Program) and in the philosophy, sociology and anthropology of cities (Leiden University).
Teaching Research Statement
At the Royal Academy of Arts/ Royal Conservatoire, Renske Maria van Dam has developed multiple long-term pedagogical research projects at the intersection between architecture, performance and philosophy. The results of these projects, in which the integration between research and teaching is central, are exhibited and published both in- and outside academia.