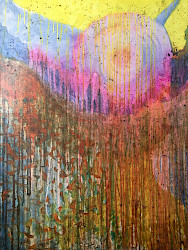 Giulietta Pastorino Verastegui
Giulietta Pastorino Verastegui is a Peruvian artist, writer, researcher, and art historian whose work delves into textiles, pigments, and poetry/writing through lenses of dimensional, spatial, and story-like interactions. Her interdisciplinary, artistic and academic research, interacts with notions of coloniality, impermanence, materiality, and storytelling.
Contact
Z2l1bGlldHRhcHdAZ21haWwuY29t
Giulietta Pastorino Verastegui developed her practice as an artist and/or researcher during these past years through her group exhibitions and collaborations. Her works implicitly connect with her homeland through the use of natural pigments from Cusco, Peru and tends to repeat themes in dimensional forms. She graduated with a Double Degree (BFA/BA 2020) from the Royal Academy of Arts, The Hague and Leiden University, and has a background in Fine Arts and Art History with concentrations in sculpture and decolonial studies respectively. She attended the Maria Lugones Decolonial Summerschool 2021 from Utrecht University and Van Abbe Museum, Eindhoven and is currently graduating (MA 2022) from Leiden University in the specialization of Arts and Culture; Museums and Collections which she is researching on deaccession, the removal of objects from collections, in relation to restitution and its relevance in colonial/power structures.