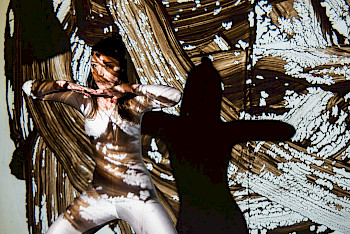 (c) Manuel Fleig
Constanze Maier
Constanze Maier is a designer and researcher working in graphic design, performance and installation. Her recent body of work mostly revolves around empirical research and the reciprocity of the designer and their work environment.
Contact
Y29uc3RhbnplLm1haWVyQGdteC5uZXQ=
Constanze Maier graduated with a BA in Communications Design from the University of Technology, Business and Design Konstanz (GER) and worked as a graphic designer with SPIN and Unit Editions in London (UK), as well as with karlssonwilker in NYC (US). As a part of her BA, while studying Art and Communication at the École supérieure d'art de Lorraine in Metz (FR), her background in visual art began to merge with an interest in performance and liberal arts, thus shifting her practice towards a more research based approach.
In her recent work she has been collaborating with scientists, journalists and NGOs focussing on the relationship between emotionality and embodied experience as a means to critically question and reflect on social and environmental topics. Constanze is currently studying at the MA Non Linear Narrative at the Royal Academy of Art (KABK) in The Hague and will be graduating with her thesis "The Ontic Tonic" in summer 2022.