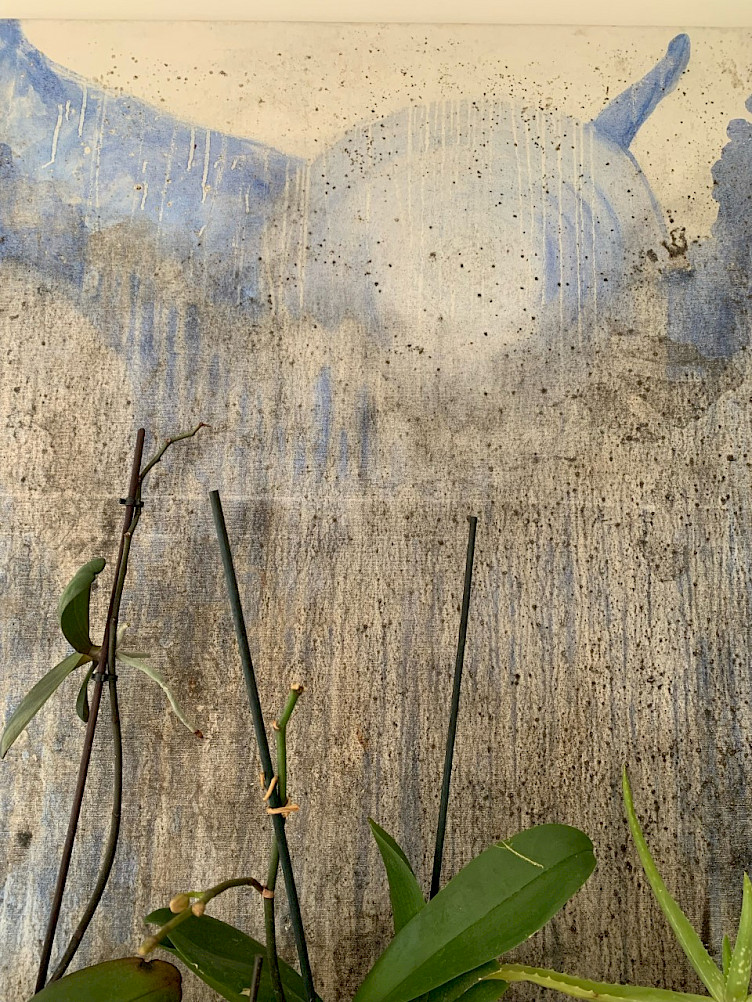 Extractos (Extracts)
Extractos is an ongoing research project by Giulietta Pastorino Verastegui, which delves into the pigments and its dimensions through the layering impermanence of colour
Dias de dias de dias,

Encontre canas en mi pelo.

Dias de dias de dias,

Pongo, borro, y vuelvo a empezar.

Atrapada en un tornado

Pero aun asi yo sola me salvo

Cuando la musica esta besandome

Besando la luz solar,

La luz de mi sombra
The project was Introduced in the year of lockdown and confinement. Giulietta placed her artworks and textiles in her balcony for these artworks to absorb the energies of the thunder, sun, wind, and other weather-like deities in the spring and summer of 2020 for more than five months. These artworks provided comfort for the artist in the "freedom" to stop producing work and rather let the weather initiate conversations. The impermanence of colour enabled new dimensions on how colours interact with each other and with itself based on outside uncontrollable forces.
Currently, the artistic research has delved into purposeful impermanence. A canvas is painting with pigment, then it is washed with water and soap and placed. This process is repeated through a series of proposed "episodes". These episodes are moments linked with emotional cycles that empathize the performative aspect of the process and the passing of time through multiple mental dimensions. It is currently in the repetition of the project, how the canvas the picture and its colour is constantly changing and producing new forms of realities and colour-like "after effects" like-memories on the canvas. This methodology enables the active participation of a direct variable of impermanence of our self and enable realities that go beyond the canvas to manifest.
For the Masters degree Art History of the Leiden University, Giulietta is currently working on a project based on colour from 18th century paintings from the Rijksmuseum Amsterdam Collection with Sonja Steiner, Luuk de Ruiter, and Anne Wellink. The metadata from the Rijksmuseum database is used to look at the methodologies in which to analyse these artworks. This research has been done through collaboration, and looking into colour theories, colour deterioration, and image analysis with RGB histograms. It also engages with colour in multiple ways which allow further understanding on pigments, perception, materiality of the painting, and their passage through time. Impermanence is not possible for these paintings in their museum context and yet experienced based on their value associated with the institution in regards to funding and other conservation projects. Pigment deteriorates based on many factors yet its characteristics and specific binder used, like oil, determine its properties on permanence and colour intensity.
Further research on the reflection of actively performing the impermanence, and darkening of colours based on chemical reaction in pigments is currently in process.