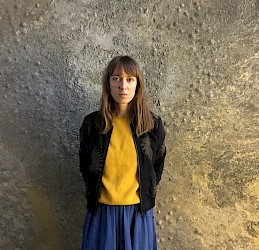 photo: R. Teague
Lyndsey Housden
Lyndsey Housden teaches in the Interactive/Media/Design department at the Royal Academy of Art (KABK), The Hague.
Contact
bC5ob3VzZGVuQGthYmsubmw=
She is a researcher and artist, working with interactive and haptic installations, spatial design and interdisciplinary projects for exhibitions, theatre, and festivals. Her work is often site-specific and intervenes directly with architecture. She plays with the illusion of architecture, creating rigid forms and layers of flexible materials that can be manipulated by touch.
Housden often collaborates with creative technologists, dancers, and composers. Her work has been exhibited internationally including at Today's Art Tokyo JP, Marres House for Contemporary Culture NL, STRP Festival NL and the International Light Art Museum in Unna DE.
Alongside her creative practice, Lyndsey is a Hatha yoga teacher and teaches yoga at the KABK.
Lyndsey Housden's research practice
In her artistic practice Lyndsey Housden creates architectural interventions that explore how the qualities of architecture influence our behaviour. Her artworks are developed through an embodied research practice that involves inhabiting the architectural space as it inhabits the body and the senses, to see what is not directly visible by the eye, to sense its scale, its effect on the psyche and on our relations towards each other. This method has with parallels with a dance practice, in the way that a dancer moves and responds intelligently and consciously without words. The method asks: How does the space move you? Where is your attention? What does the architecture restrict and enable? Where is the control and the containment of the moving body?
The installations that evolve from this process create alternative realities which counteract the way the architecture's affordances often determine behaviour. The works may suggest a walk in the forest, becoming lost, an infinite waterfall; each amplifying as aspect of the environment that architecture can remove us from. Housden composes visual rhythms and optical illusions that invite physical interaction with both the public as well as the performers. In this process, rhythms within the body are generated through repetitive actions within a space. She uses elastic thread, a material that invites curiosity and play, as it moves and vibrates in response to touch, engaging the haptic and kinaesthetic sense of perception.