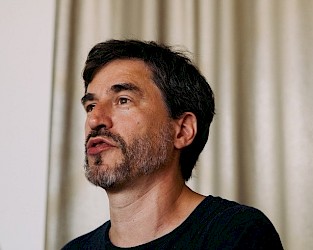 Gabriel Paiuk
Gabriel Paiuk (*1975) is a composer and sound artist whose work interrogates the way material, technical and collective infrastructures inform the ways we perceive sound. Operating at the threshold of music practices and the wider context of sound in the arts, his work takes the form of sound installations, compositions for instruments and electronics and collaborations with various disciplines.
Contact
Z2FicmllbEBnYWJyaWVscGFpdWsuY29t
Gabriel Paiuk's sound installation work has been presented at Gallery W139, LI-MA, Gaudeamus, and Willem Twee Kunstruimte-November Music Festival. His works for instruments and electronics have been commissioned and performed by ensembles and soloists such as œsterreichisches ensemble für neue musik, ASKO ensemble, Kammerensemble Neue Musik Berlin, New European Ensemble, Slagwerk Den Haag, Francesco Dillon, Ekkehard Windrich and Ensemble Modelo62, among others. His work Res Extensa was the first sound installation to be awarded the Gaudeamus composition prize in 2006. As a pianist improviser he has performed and recorded with Axel Dörner, Jason Kahn, Keith Rowe, Andrea Neumann, Burkhard Beins, Gunter Mueller, and Lucio Capece, among others. His research work has led to publications as part of Journals end edited volumes in Leuven University Press and Cambridge University Press, among others.
He is a part of the Faculty Staff at the Institute of Sonology (KC) since 2014 and has been involved as a guest lecturer and workshop leader in the Master in Scenography at the HKU (Utrecht), Lecturer on Technology and New Aesthetics at Universidad Nacional de Tres de Febrero (BsAs) - Master Artistic Research at KABK (Den Haag), KASK-School of Arts (Ghent) and has given presentations of his research in contexts such as the Amsterdam School for Cultural Analysis (UvA - Amsterdam), UNM Festival - Young Nordic Music Days (Aarhus) and the International conference on the Philosophy of Human Technology Relations (University of Twente).
https://gabrielpaiuk.bandcamp.com
http://www.transformationsoftheaudible.com
http://www.anothertimbre.com/gabrielpaiuk.html