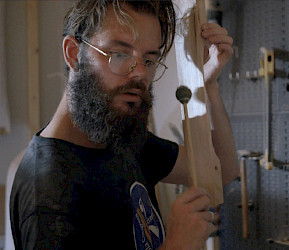 Aart Strootman
Aart Strootman is a guitarist and composer with a large love for innovation in the domain of musical instruments. He teaches at the Royal Conservatoire and is currently a PhD candidate at the docARTES programme of the Academy of Creative and Performing Arts (ACPA) at Leiden University.
Contact
YS5zdHJvb3RtYW5Aa29uY29uLm5s
Pioneering guitarist and composer Aart Strootman (1987) throws a solid knock on the door of the music business of our times. His intellect and frank, fresh view on musical genres and styles justify a most prominent position in the music scene.
He studied guitar in Tilburg with Hein Sanderink, obtaining his Bachelor's in Music cum laude in 2008. Subsequent studies with Marlon Titre, Elliott Fisk and Scott Tennant resulted in a cum laude Master's in Music with the highest grade (10/10) at Conservatory Fontys & Zuyd in 2010. At the same institute he graduated with a Master's in Music Theory and at the University of Utrecht he obtained a MA in Musicology. Currently he is a PhD candidate at the university of Leiden via the DocArtes program.
At the Royal Conservatoire, Aart Strootman teaches music theory courses for the composition and Sonology department. Besides these courses he teaches Critical Music Studies and History of Music for the classical department and collaborates with the Ensemble Academy of the Master of Music program.