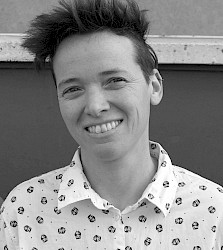 Thalia Hoffman
Thalia Hoffman is a visual artist and researcher working in film, video, performance, and public interventions in the area she lives in, east of the Mediterranean. In 2020 she graduated from the Leiden University PhDArts programme, with the thesis Guava, a conceptual platform for art-actions.
Contact
dGhhbGlhLmhvZmZtYW5AZ21haWwuY29t
The aim of the Guava Platform is to research and create techniques that are part of Hoffman's quest to continue to live in the conflicted landscape, as an artist. All her work strives to be involved in its surroundings and engage people to look, listen and feel their socio-political landscape with attention.
Hoffman's films, video works and performances have been shown in exhibitions and festivals in Israel and around the world. Among them the Tel Aviv Museum of Art, The Haifa Museum of Art, Mamuta Art Centre in Jerusalem, Beit HaGefen Gallery in Haifa, The Jerusalem film festival, Experiments in Cinema Festival in New Mexico, Aesthetica Film Festival in the UK, and The Video-Art festival in Cairo.
Alongside her artistic actions, Hoffman is a lecturer in the BA and MFA art programmes of the University of Haifa in the fields of video, performance and artistic research.