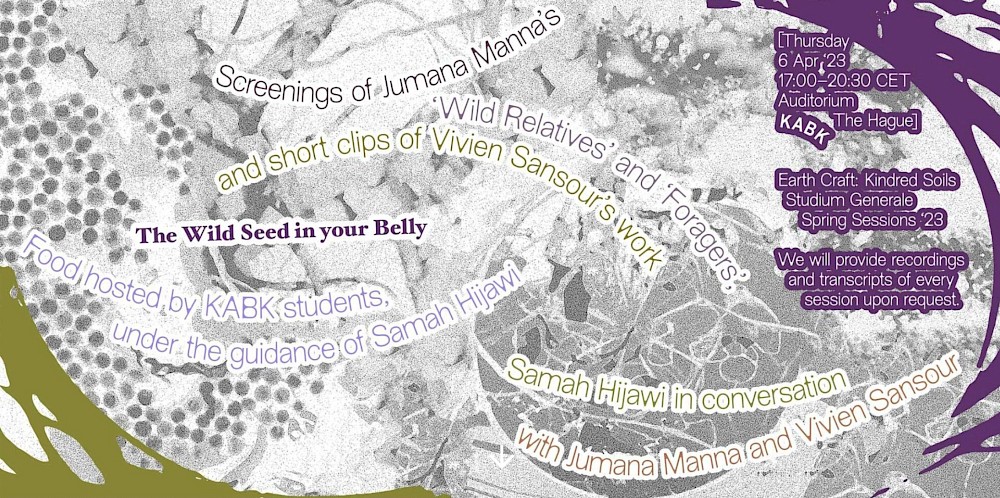 Visual design: Tereza Nováková
Session #8 - The Wild Seed in your Belly
Th

06 Apr 2023

17:00

–

20:30
, Conversation - KABK Auditorium, The Hague
In this conversation, three artists (Samah Hijawi, Jumana Manna and Vivien Sansour) explore the seemingly smallest, most commonplace speck, grain or morsel to unpack the bigger colonial stories behind land and plant enclosures, and therefore also food appropriations. From homegrown foraging and foresting, they trace how these stories journey like wild seeds to eventually interconnect and root in the forest of the gut.
17:00 - 19:00 CET: Screenings of Jumana Manna's 'Wild Relatives' and 'Foragers', and short clips of Vivien Sansour's work
17:00 - 19:00 CET: Food hosted by KABK students, under the guidance of Samah Hijawi
19:00 - 20:30 CET: Samah Hijawi in conversation with Jumana Manna and Vivien Sansour (both on Zoom)
Check out the biographies of the artists and the preparation material with the above link.