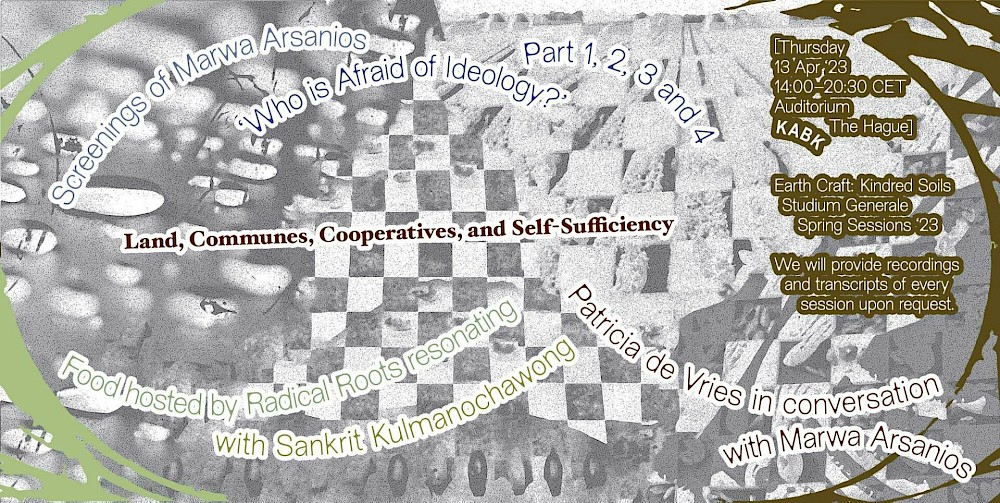 Visual design: Tereza Nováková
Session #10 - Palm Oil & the Capitalist Mode of Human Sacrifice
Th

20 Apr 2023

17:00

–

20:30
, Screening, Food & Conversations - KABK Auditorium, The Hague
You are welcome to join a new session of the KABK Studium Generale Spring Cycle Kindred Soil.
In 1898, the British Empire invaded and destroyed the Edo Kingdom (present-day Nigeria). This sacrificial event, which killed thousands, is often associated with the theft of the Benin Bronzes, which today haunt many Western museums and are the subject of repatriation struggles. The invasion was motivated by Europe's hunger for palm oil, which was a key product in the industrial revolutions.
Taking this haunting act of violence as a starting place, this presentation follows palm oil's story through the changing shape of global capitalism until the present day, when it is found in 50% of supermarket products. This might allow us to theorize a particularly capitalist mode of human sacrifice and speak of rebellions against it.
Programme
17:00 - 18:30 CET: Food & film hosted by KABK students, under the guidance of Elia Nurvista
18:30 - 19:30 CET: Lecture Max Haiven
19:30 - 20:30 CET: Elia Nurvista in conversation with Max Haiven and Q&A
Check out the biographies of the participants and the link to the reading material through the above link.