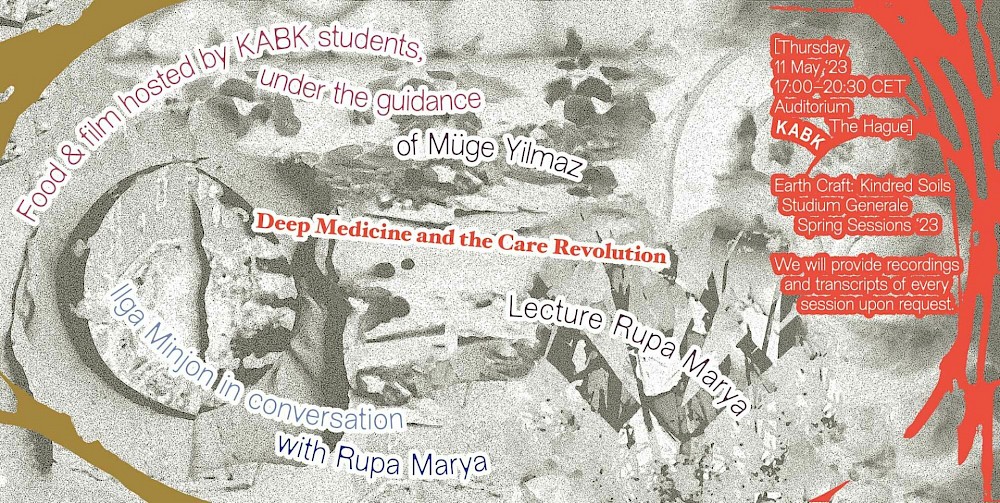 Visual design: Tereza Nováková
Session #11 [CANCELLED] - Deep Medicine and the Care Revolution
Th

11 May 2023

17:00

–

20:30
, Screening, Food & Conversations - KABK Auditorium, The Hague
You are welcome to join a new session of the KABK Studium Generale Spring Cycle Kindred Soil.
The burning of our planet, the fracturing of societies and the unrelenting rise of chronic inflammatory illness have a common root cause.
In this session, physician, composer, author, mother and activist Rupa Marya will describe the damaging impact of modern socioeconomic forces on human bodies, the social body and the earth's body. Weaving together story, science, ecology, and medicine, Marya will share how a reckoning with history and power through the Care Revolution is necessary to advance a world where health can be possible for the human and the more than human world around us.
Programme
17:00 - 18:30: Food & film hosted by KABK students, under the guidance of Müge Yilmaz

18:30 - 19:30: Lecture Rupa Marya (zoom)

19:30 - 20:30: Ilga Minjon in conversation with Rupa Marya (zoom)
Check out the biographies of the participants and find the link to the reading material through the above link.