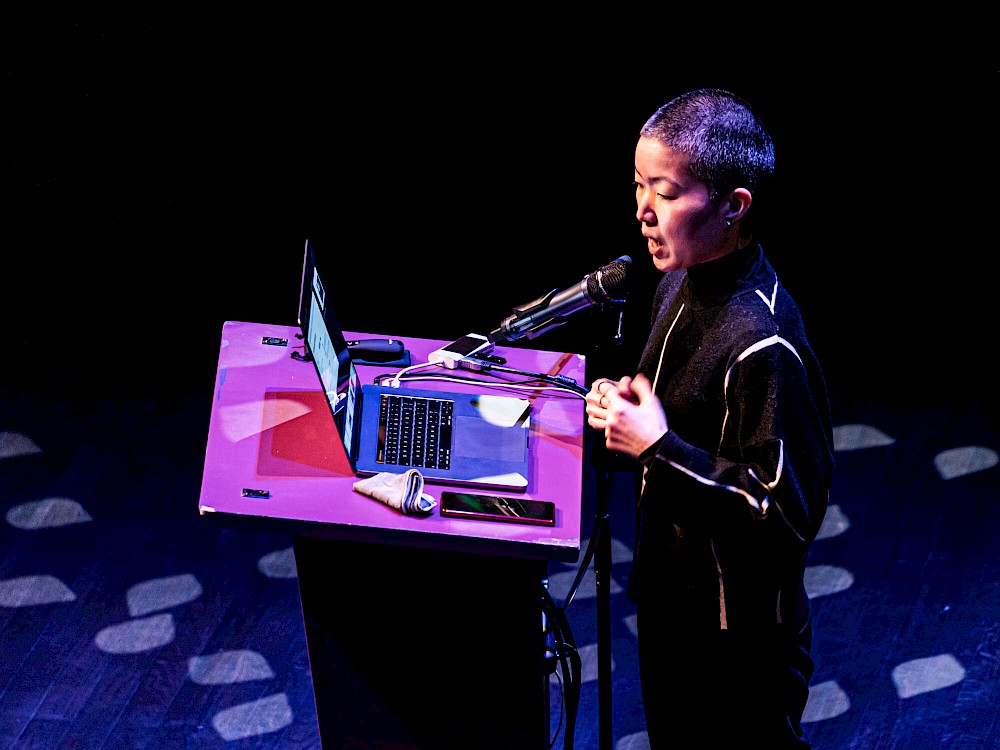 Photo credit: Alex Schröder, Royal Conservatoire, during the lectorate event of January 2022
Presentations Staff Research 'Lectorate Music, Education and Society'
We

25 Jan 2023

10:00

–

17:30
, Presentations - Studio 1 @Amare
You are warmly invited to join us for the Lectorate Event of the Royal Conservatoire on Wednesday 25 January.
During this free public event in Studio 1 of the Royal Conservatoire in Amare, the lectorate 'Music, Education and Society' will present the outcomes of the research projects of 2022, as well as introduce the research group of 2023. The meeting is also the festive closing of the lectorate year.
A diverse range of research projects will be presented through presentations and artistic interventions. The programme will include a book presentation by Richard Barrett, whose new publication Transforming Moments is the result of his work in the context of the Sonology Electroacoustic Ensemble and the lectorate over the past years. We are also looking forward to upcoming research projects with the 2023 researchers, who will offer a creative glimpse into their plans. The presentations will be followed by drinks in the canteen.
Programme
10:00 - Introduction by lector Paul Craenen
10:15 - Presentation Aart Strootman - Harry Partch' Diamond Marimba as a collaborative tool
11:00 - Break
11:15 - Presentation Joe Puglia - Deep Listening Today: Connecting with audiences through the music and teachings of Pauline Oliveros
12:00 - Presentation Susan Williams - Musicians' Practice, Health and Wellbeing within the Conservatoire
12:45 - Lunch break
13:30 - Presentation Inês d'Avena & Claudio Ribeiro - Look and listen again: Practical application of an in-depth study of the performance practice of music written in Italy in the early 18th century
14:15 - Presentation Heloisa Amaral - The ways we teach: A dossier on different perspectives on higher music education held in conservatoires in Europe and beyond
15:00 - Presentation Anka Koziel & Miro Herak - Methodology for developing and internalising rhythm and timing through body movement
15:45 - Break
16:00 - Presentation Felix Schlarmann - Crossing borders: Frame-working 'beyond genre' artistic exchange in a conservatoire
16:45 – Book Presentation Richard Barrett - Transforming Moments
17:30 - Drinks in De Stadskantine