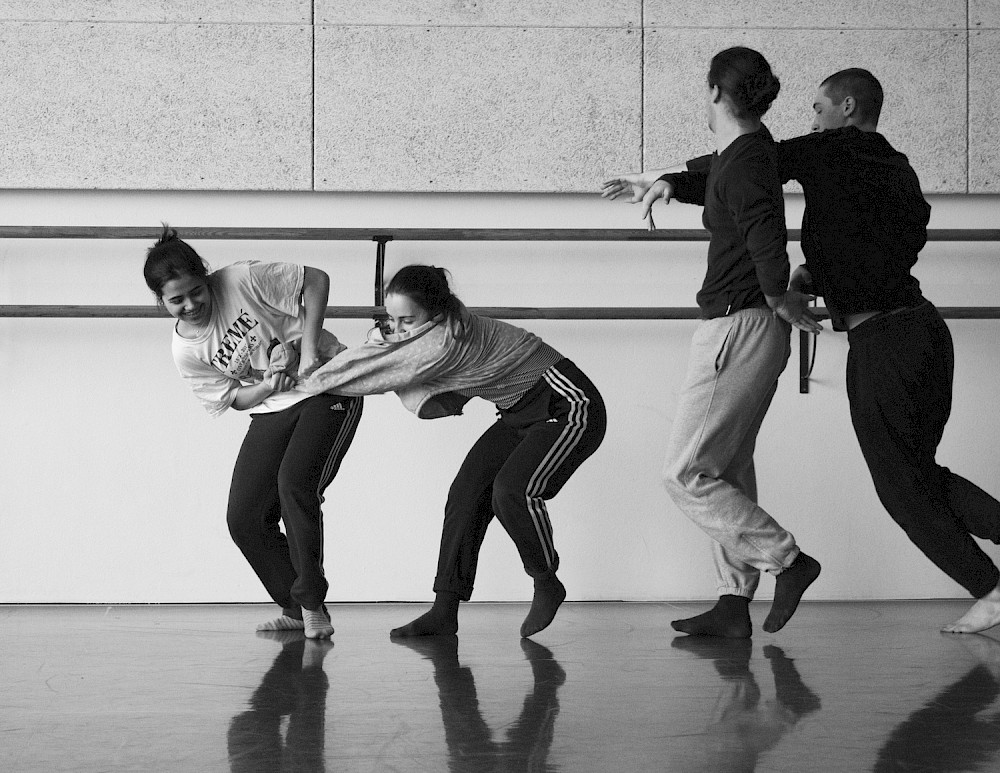 © Carolien Hermans
The Relevance of Improvisation in Music & Dance for Society
We

30 Nov 2022

13:15

–

18:00
, Mini-Symposium - Sweelinckzaal, Conservatorium van Amsterdam, Oosterdokskade 151, 1011 DL Amsterdam
You're invited to join the mini-symposium, part of the PhD defense of Carolien Hermans, on 'the Societal Relevance of Improvisation in Music and Dance'. It will be followed by a panel discussion on artistic doctorates in the performing arts.
There is no script for living your life. Each human being has to work out and invent their own way of living along the way. Improvisation is thus a vital force in life. Following Tim Ingold and Elizabeth Hallam (2007) four things can be said about improvisation: it generates diverse forms of culture, it is relational, it is temporal and it is something we simply do. It is therefore all the more surprising that the term creativity is overly present today but that it remains rather silent when it comes to improvisation. This meeting seeks to discuss the societal relevance of improvisation, notably in dance and music. Furthermore, it aims to critically explore how both can take their proper place in education.
In this mini-symposium, hosted by the Conservatorium van Amsterdam, Amsterdam University of the Arts, in collaboration with the Academy for the Creative and Performing Arts (ACPA), Leiden University, we will specifically address the notion of care and response-ability. Can we consider improvisation and play as practices of care, in which living beings attend and look after one another, respond and become response-able to what happens in the moment (Ingold, 2018)? What can we learn from these embodied, improvisational practices that welcome elements of uncertainty, that take residence in the not-yet, and allow for differences? What is the role of the body, and movement, in taking care? Even more, how is this practice of care addressed in artistic research? What does it mean to do research that is ethically informed? Can we look at artistic doctorates as a practice of care, that incorporates also notions of vulnerability, resilience, plurality, and response-ability (Midgelow, 2019)?
The symposium will end with a panel discussion on artistic doctorates in the performing arts. The third cycle in higher art education is a topical issue in the Netherlands. Currently, there are different formats, ranging from preparatory trajectories (such as THIRD in Amsterdam) to full PhD programs (e.g. ACPA in Leiden). In 2023 a pilot of so-called 'professional doctorates' in the arts will start in the Netherlands. The panel will discuss these formats, taking into account the outcome of the EU project 'ADiE - Artistic Doctorates in Europe'.
You can register for the mini-symposium by mail to tommy.vandelst@ahk.nl or carolienhermans@ahk.nl. There is no registration fee.
Detailed Program
13.15-13.30: Coming in
13.30-13.45: Welcome and Introduction by Carolien Hermans
13.45-15.45: Mini-Symposium: 'Societal relevance of improvisation and play'

13.45-14.05: Charlotte Svendler-Nielsen (University of Copenhagen)
14.05-14.25: Luc Nijs (University of Luxembourg)
14.25-14.45: Eeva Anttila (University of the Arts Helsinki)
14.45-15.05: Vida Midgelow (Middlesex University London)
15.05-15.45: Discussion

15.45-16.15: Break
16.15-17.45: Panel Discussion: 'Artistic doctorates in the performing arts', moderated by Henk Borgdorff (ACPA, Leiden University

Vida Midgelow (Middlesex University London)
Anke Haarmann (ACPA, Leiden University & Royal Academy of Art, The Hague)
Michiel Schuijer (Conservatorium van Amsterdam, Amsterdam University of the Arts)
Liesbet van Zoonen (Erasmus University Rotterdam)
Laura Cull (Academy of Theatre and Dance, Amsterdam University of the Arts)

17.45-18.00: Closing off
From 18.00 on: Drinks at Atrium