Re-Passport is an experimental performative intervention created as a part of The Cookbook for a (Covid-) Coping Pedagogy, developed in collaboration with the Non Linear Narrative Master at the Royal Academy of Art (KABK) and Ruben Pater.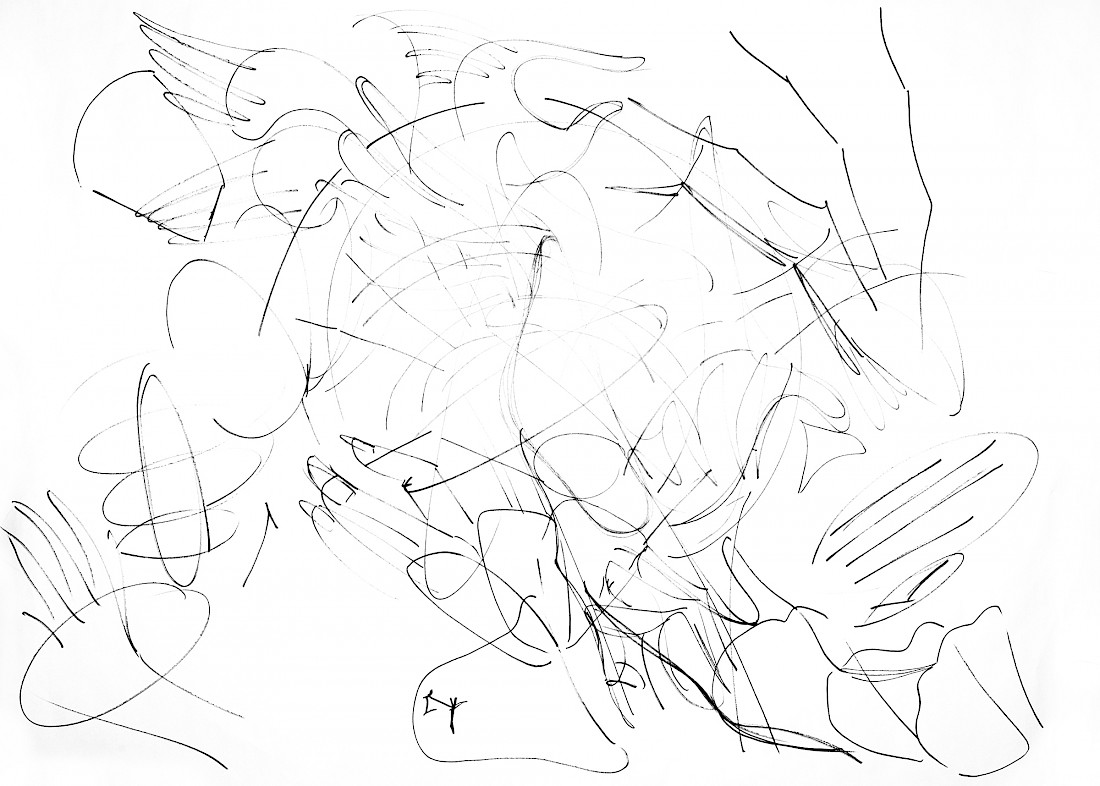 Drawing as documentation of Person 1's movements (Person 2)
(All photos) Movement of elbow within an imaginary movement restriction box (Person 1) © Talita Virgínia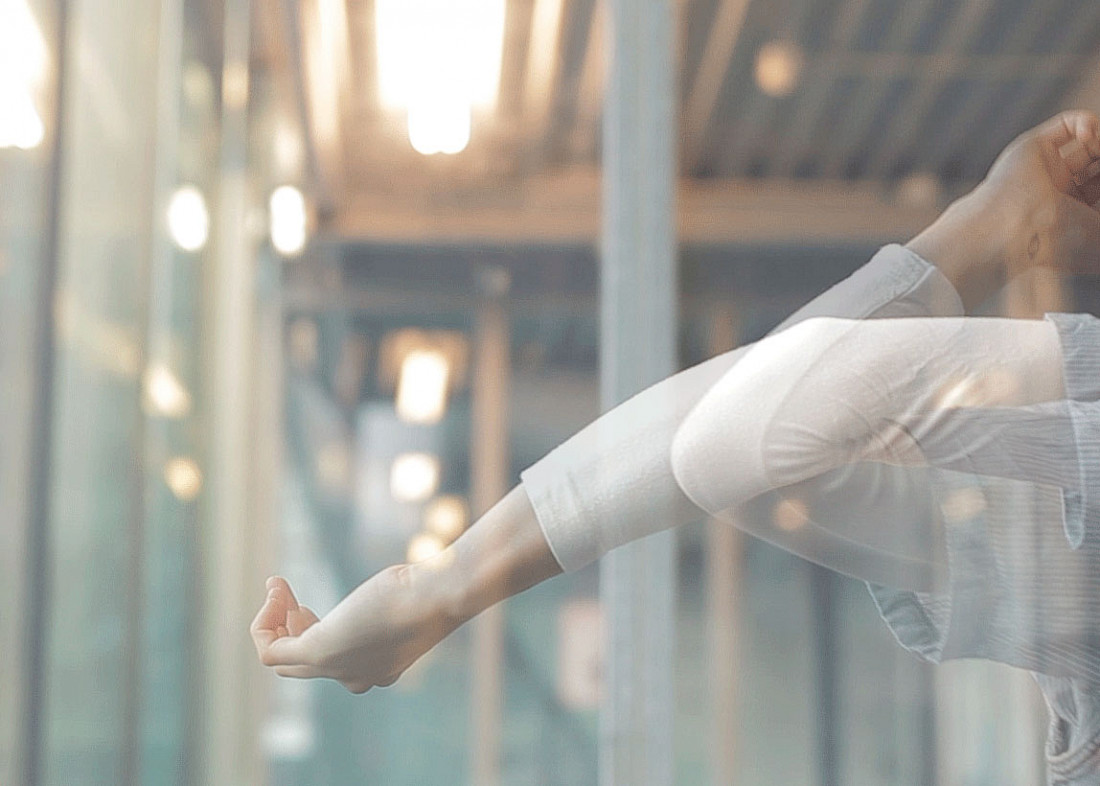 Introduction to the project
In the framework of design education within the scope of the COVID-19 pandemic, the intervention focussed on exploring manifested restrictions within the human body and putting them in relation to design practice.
Therefore the class was split in teams of two whereas one person of each team performed while the other one documented the event. Within those teams person 1 was given the task to imagine a box around one particular body part or joint of their choice (f.i. wrist, shoulder, neck, chest, hips, knees, ankles,...) and to only move inside this restriction and a general radius of 1,5m for about ten minutes. Person 2 was assigned to observe their team partner and to translate their movements into a drawing. Besides the physical method of drawing this part also included developing an eye for the emotional interactions that person 1 has with their body. In doing so person 2 was invited to also note down words that associate with how they perceived person 1's body language (f.i. liberating, hasty, intimate, frustrated,...).
The goal was to face and recognise unconsciously embodied patterns of external power and the boundaries they create, as well as to intuitively translate and re-direct (re-passport) them within the own body in order to create both understanding and space for liberation from limitations.
How can embodied limitations be liberated through pedagogy?
We tend to hold stress in particular body parts, so called stress containers, for instance our jaw, neck, face, shoulders, diaphragm, stomach area, hips, etc. This prevents our vital body energy to flow smoothly, it creates blockages and manifests in habits of physical and mental behaviour. Breaking through those restrictions we create for ourselves is often uncomfortable, strange, feels "unnatural" or intimidating. Furthermore, we can't break through something we're not able to see. This intervention was created to help understand comfort zones, how to interact with them, how to perceive others and how to find ways of communication in order to eventually shift into a more dynamic and active way of perception.
Participants
Jeroen van den Bogaert, Jan Johan Draaistra, Erica Gargaglione, Elvi Klein, Camilla Kövecses, Akina Lopez, Constanze Maier, Paul Mielke, Blandine Molin, Niels Otterman, Ruben Pater, Daan Veerman
How can embodied limitations be liberated through pedagogy?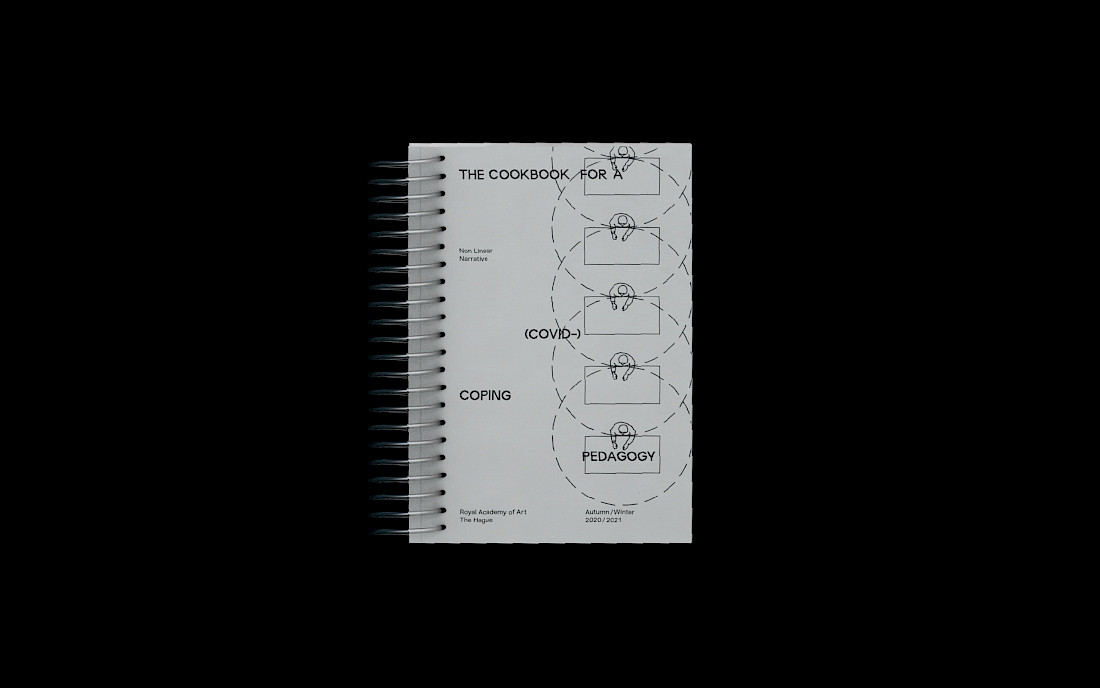 Design: Constanze Maier, Paul Mielke, Jeroen van den Bogaert, Jan Johan Draaistra; Editor: Daan Veerman.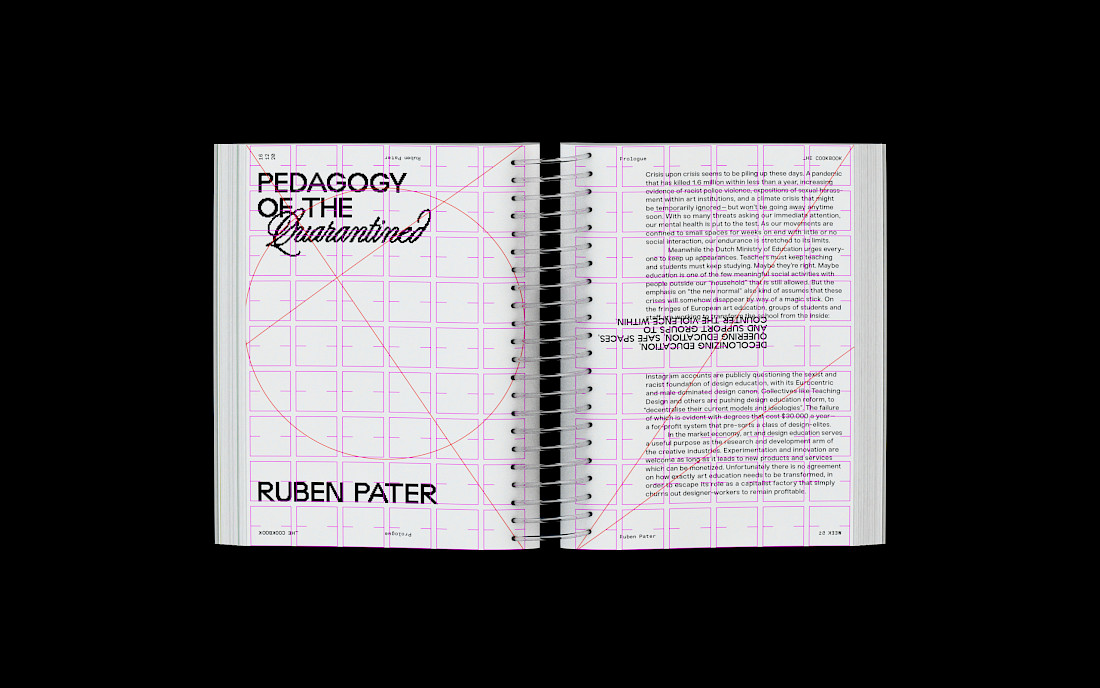 © Constanze Maier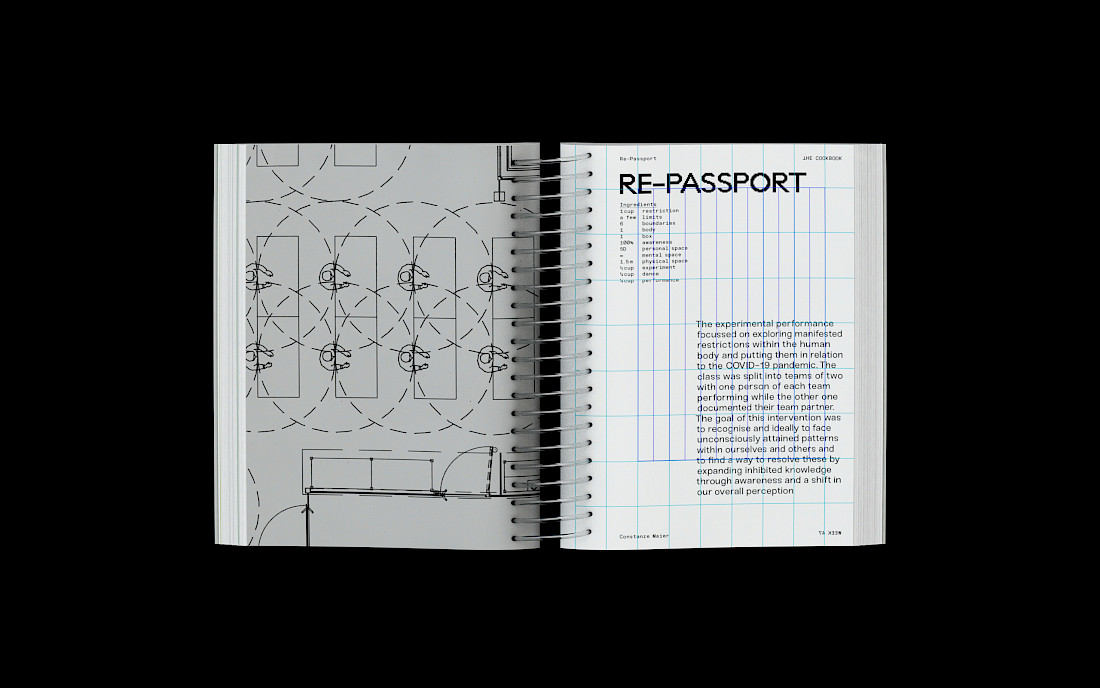 © Constanze Maier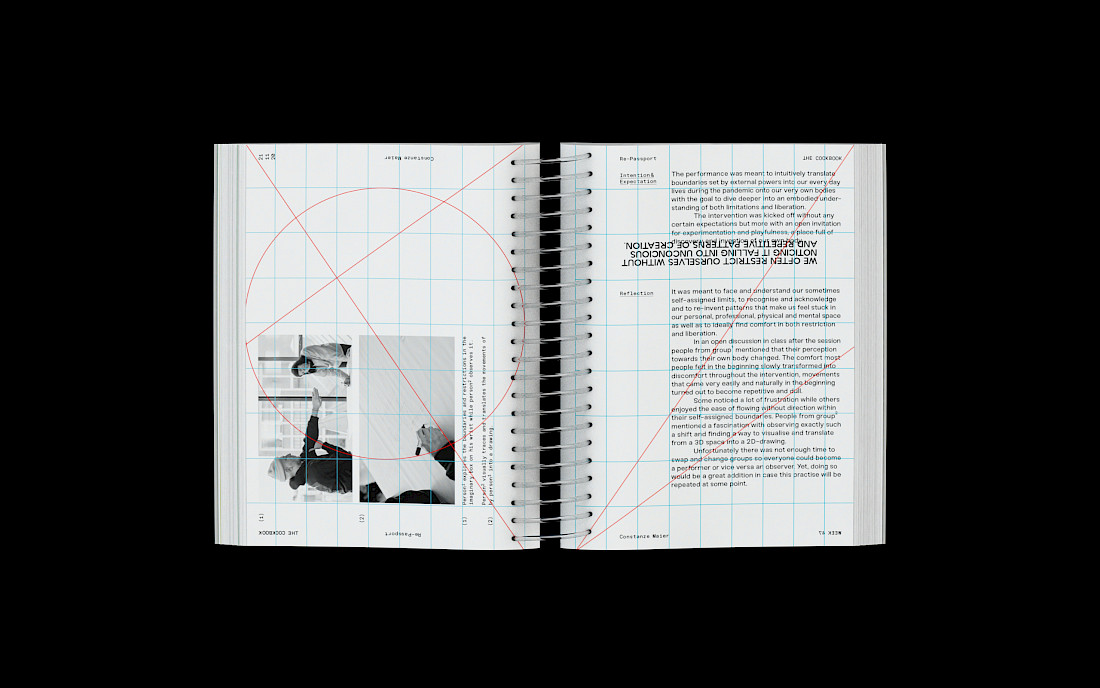 © Constanze Maier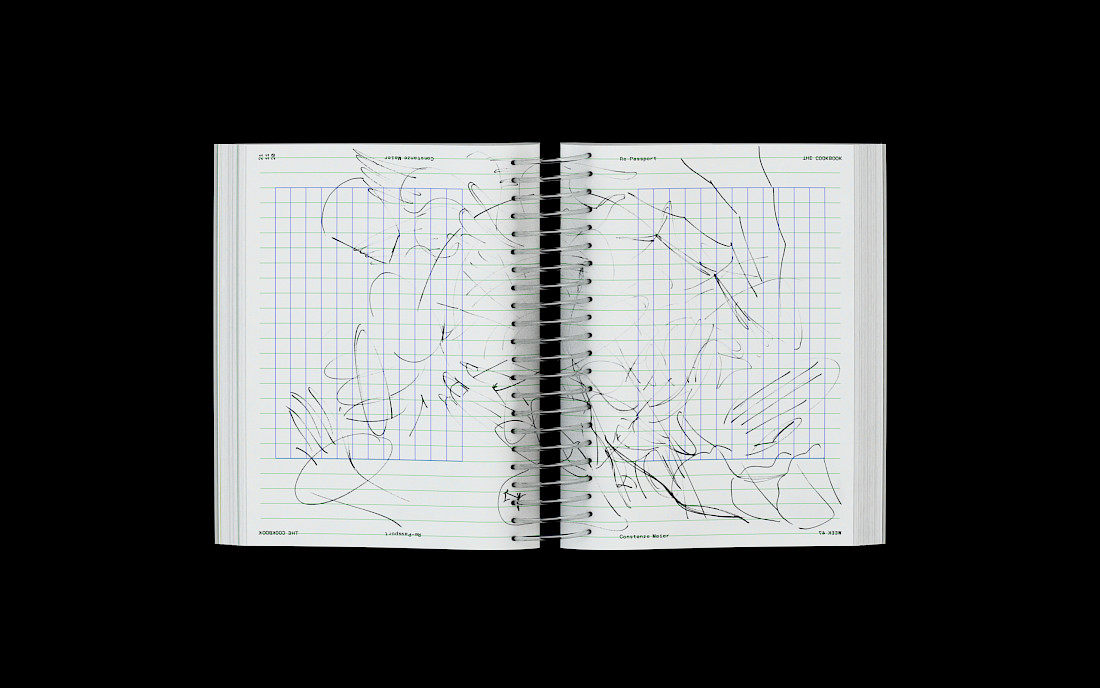 © Constanze Maier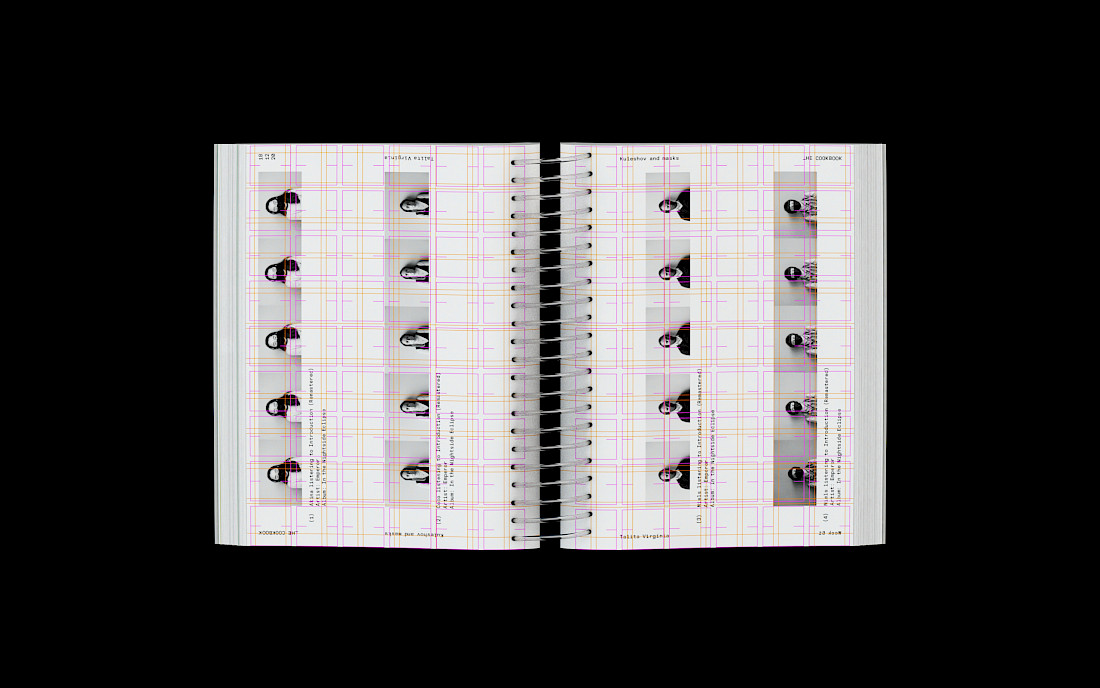 © Constanze Maier