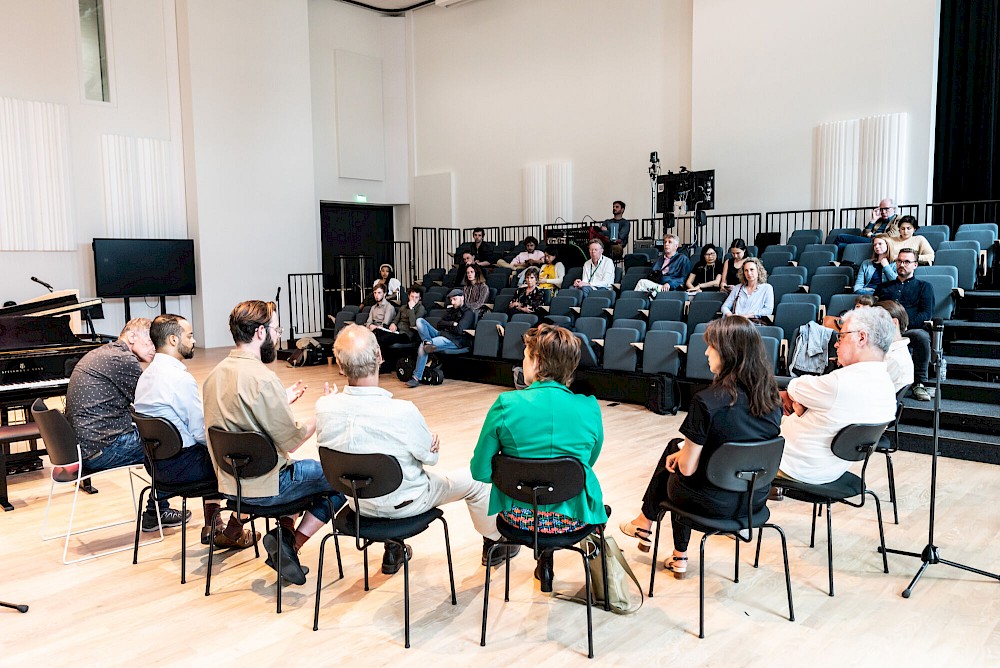 Photo from the archive of the Royal Conservatoire, taken during the book launch 'The Promise of Music', May 2022
Knowledge in the Arts #6: Paul Craenen
Th

01 Sep 2022

15:00

–

17:00
, Presentation - Musikhuset (Kammermusiksalen), Skovgaardsgade 2C, Aarhus, Denmark
In this presentation, lector Paul Craenen (KC) explores limitations and possibilities of artist-researchers to combine positions of artistic proximity and reflective distance. He proposes the concept of musical artistic research as an interruptive practice, in which the systematic and conscious alternation of time positions relative to the musical flow can create the conditions for reflection and criticality.
Flow, interruption and reflection in musical artistic research
Performing music requires an immersion and dedication that is different from talking or writing about that experience. Nevertheless, without words it is very difficult, if not impossible to conceptualise or integrate musical experience as a central locus of artistic research. Thus, artistic research in music usually relies on an alternation of positions inside and outside musical time. Relying on the first-person perspective of the researching musician, transfer of knowledge and experience from in-time to off-time positions and back is often taken for granted.
Streaming link: https://artisticresearch.dk/en/?po=4780
About the International Center for Knowledge in the Arts (ICKA)
In spring 2021, the International Center for Knowledge in the Arts, launched its lecture series, "Knowledge in the Arts". The focus is on transdisciplinary themes and current debates in Artistic Research, both within the Center institutions and in relation to artistic research's wider relevance in society.
The International Center for Knowledge in the Arts is a knowledge resource for the seven institutions of higher arts education under the Danish Ministry of Culture. Our work is concentrated on Artistic Research as a fundamental part of the knowledge base of the art schools, which provides their employees possibilities to explore new paths of artistic practice. We host public and internal activities about knowledge in the arts and we administer the Cultural Ministry's funding program for artistic research. You can contact the center via info@artisticresearch.dk.