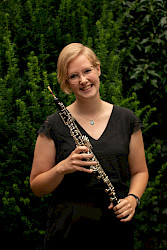 Anna Marieke Zijlstra
As a French and oboe teacher, oboist and singer, Anna Marieke Zijlstra (1995) combines her passions for language, music and teaching.
Contact
YW5uYW1hcmlla2V6QGdtYWlsLmNvbQ==
In 2020 she graduated cum laude from Leiden University in French language and culture with her thesis "Les Voix si humaines de Cocteau et de Poulenc – une recherche musico-littéraire" and has been teaching French diction to voice students at Codarts since 2019.
As a master student at the Royal Conservatoire The Hague, she studies oboe with Jeroen Soors, takes English horn and voice lessons, teaches oboe at "Scholen in de Kunst" in Amersfoort and enjoys playing together in several (professional) ensembles and orchestras.